The rich just keep getting richer.  Pioneers of the spin rate revolution and an organization that altered the game with how teams rebuild have an interesting diamond in the rough on their hands.  Everyone knows the pitching talent the Astros possess both at the major and minor league levels.  Verlander, Cole, McCullers (will miss the 2019 season, unfortunately. We are going to miss that curveball) hold down the fort at the major league levels. Meanwhile, Whitley (the best pitching prospect I've laid eyes on), Josh James (who knew sleep apnea could hide all that talent?), J.B Bukauskas, and Corbin Martin are all chomping at the bit for their chance.  It's easy to get lost in a system like this that is still loaded with talent despite the players they've graduated in recent years.  I recently found a player in their system that no one seems to be talking about, and we very much should be.
Bryan Abreu was signed in 2013 at 16 years old out of the Dominican Republic by the Houston Astros.  Abreu is a right-handed pitcher who stand 6'1″ and 175lb.  He would spend two years in the Dominican Summer League before finally making his stateside debut in 2016 in the Gulf Coast League.  The 2017 season was a mixed bag for Abreu.  He posted a 12.27 K/9 while at the Gulf Coast league (his second season there) but also posted a 6.44 BB/9 that was the primary culprit of his unsightly 7.98 ERA.  On top of all of that, his 2017 season ended early due to elbow discomfort.  He didn't need surgery but for a pitcher that hadn't pitched above stateside rookie ball and was to turn 21 years old before the 2018 season, it could be said that 2018 season was a vital season for Abreu to prove he had MLB upside.
Abreu came into spring training feeling healthy and participated in extended spring training to ensure that he was healthy and ready to go for what would hopefully be a magnificent 2018.  Abreu made his 2018 debut at the Astros' short-season A-Ball affiliate the Tri-City ValleyCats.  In two starts and two relief appearances, he simply dominated:
| | | | | | | | | | |
| --- | --- | --- | --- | --- | --- | --- | --- | --- | --- |
| Level | IP | K/9 | BB/9 | BABIP | HR/FB% | GB% | ERA | FIP | xFIP |
| A- | 16.0 | 12.38 | 3.38 | .281 | 15.4% | 36.4% | 1.13 | 3.48 | 2.44 |
The two stats that obviously pop out at you are his K/9 and ERA.  A K/9 over 12.0 and an ERA just a touch above 1.00 simply shows that he was way more advanced than his competition.  During this 4-game stretch while at A- he made a 4-inning cameo at A ball before returning to A- for one last start before being promoted to A ball full-time on July 11th.  Honestly, I was surprised he was sent back down to A- after his brief appearance at A ball where he more than held his own.  He pitched 4 innings, giving up no runs on 3 hits, 2 walks, and struck out 5 in that brief start.  I don't think he appreciated being sent down because in his return (and last appearance at A-) he started the game going 4 innings allowing 1 hit, 1 walk, and struck out 9 batters!  He faced 14 hitters in that game and he struck out 9 of them.  For those keeping score at home that was a 64% K rate in that game.
The Astros quickly realizing their mistake in sending him back down permanently moved Abreu up to their A-Ball affiliate the Quad Cities River Bandits (don't you love minor league team names?).  While you might expect some regression, Abreu didn't slow down for the rest of the year and posted the following stats:
| | | | | | | | | | |
| --- | --- | --- | --- | --- | --- | --- | --- | --- | --- |
| Level | IP | K/9 | BB/9 | BABIP | HR/FB% | GB% | ERA | FIP | xFIP |
| A | 38.1 | 15.97 | 3.99 | .313 | 9.1% | 48.2% | 1.64 | 2.10 | 1.93 |
All he did was nearly post a K/9 of 16!  I try to keep my writing professional often but there isn't a way I can describe this except for that is simply ridiculous.  You might point out the BABIP of over .300 but when you're striking out 16 per 9 innings, something tells me not many balls are being put in play against him.
With 2018 being his 5th professional season Abreu was going to be eligible in the Rule 5 draft.  Now it's not very often that a pitcher this far away from the majors would be selected in the Rule 5 but the Astros chose to protect him from the Rule 5 by adding him to the 40-man roster.  This move came as a surprise to many casual fans and even the more involved fans.  I think a big reason why the Astros chose to protect Abreu was to protect him from the Baltimore Orioles who recently signed two highly respected Astros front office workers: Mike Elias and Sig Mejdal.  There's no doubt that the Orioles might have had the inside track on Abreu and Astros GM Jeff Luhnow felt compelled to protect him.  If the Astros feel like Abreu is special, he's a guy that is going to have my attention.
The Delivery
Side View (From 2080 Baseball)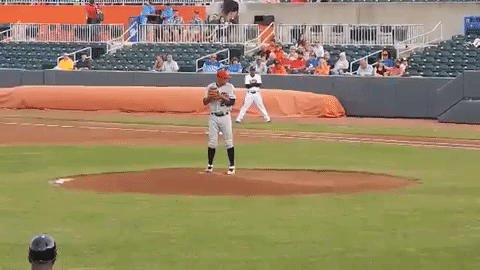 Front View (From 2080 Baseball)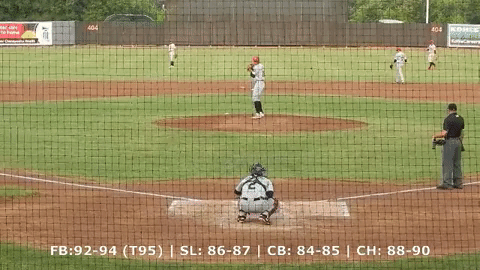 I really like Abreu's delivery.  He starts from the set position, not using a typical windup.  When runners are on he will mute the leg kick.  He utilizes his lower half well using a big leg kick to rock back then explodes off his back leg towards the plate.  This creates a lot of momentum and then the arm follows through with a ¾ arm slot that is on the lower end.  The delivery itself is relatively high effort but there are also not a lot of moving parts to it.  So, there's little reason to believe that with some refinement and repetition he couldn't repeat his mechanics.  The delivery isn't so high effort that he's a sure thing for the bullpen, he can succeed as a starter with his delivery as-is.
The only thing I don't like about his delivery is that he falls off the mound to the 1B side.  This will limit his potential for control and command, while also limiting his ability to be an average defender at his position.  With pitchers that fall off to 1B (or 3B for lefties), anything hit softly away from where they are falling will make for a difficult play.  There was a play in a game where a hitter bunted softly towards the mound but away from where Abreu had finished his delivery. Abreu had a hard time recovering from his delivery and had to make a perfect play to get the runner.  He couldn't pick up the ball cleanly and by the time he collected the ball, he was too late.  Abreu is a good athlete, so he could be able to get by as a defender, but any balls hit in a similar direction will cause him a lot of trouble.
Also, I want to give quick mention that he shows quick feet in his move to first.  He needs refinement in holding runners but has a relatively quick delivery to the plate with runners on and shows a decent move for a right-hander, so he shouldn't be a hindrance to catchers trying to throw out would-be base runners.
The Arsenal
Abreu's arsenal is a perfect example of what the Astros want from their pitchers.  Abreu possesses two breaking balls (curveball and slider), a fastball that can be used at the top of the zone, and a changeup.
All Gifs below are taken from MiLB.tv.
The Fastball
Abreu's fastball sits around 94 mph and can reach as high as 97.  It's a straight pitch so the pitch is at its best when it's thrown up in the zone.  There is still some projection left in his frame, so I think we can expect him to sit closer to 95-96 with peaks around 98.  I'd say it's an average pitch right now despite his ability to throw it in the mid-90's due to its arrow-straight nature.  A big reason I say average, is because the pitch doesn't appear to have high spin.  The ball doesn't appear to have that rising action at the top of the zone that are good indicators of good spin.  He does have success at the top of the zone but that is typically after a good breaking ball down in the zone.  So, that is more an indicator of good ability to change eye level than the fastball having a high spin rate.  He generally throws the fastball around the zone, but he struggles to throw it to specific quadrants of the zone (read: decent control and below average command).  I have seen a two-seam fastball sparingly that has some arm-side run to it but he doesn't throw it enough to say it's part of his arsenal.  Overall, I'd rate his fastball as 50/55.  I give the 55-potential grade for if he can increase his velocity and gain better command of the pitch.
The Curveball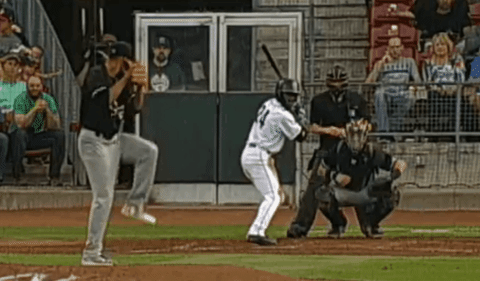 Onto the curveball.  This pitch is a thing of beauty.  It has a 12-6 break to it and sits around 84-85 mph.  He knows how to really spin the pitch (just shocking for an Astros pitcher) and according to Baseball America's most recent scouting report on him, the pitch surpasses 3,000 rpm.  For reference, the average MLB curveball spin rate is around 2,500 RPM.  I have watched a good bit of tape on Abreu and I don't think I've seen a remotely comfortable swing against the curve.  Often, hitters are just looking foolish swinging at it or are so fooled that they can't get the bat off their shoulders.  The gif above is a great example of the former.  He still has some work to do in increasing its consistency, but I think this is a true 60/65 pitch.  Honestly, I'm really tempted to give it a potential plus-plus grade, but I will stay somewhat conservative with my grading.
The Slider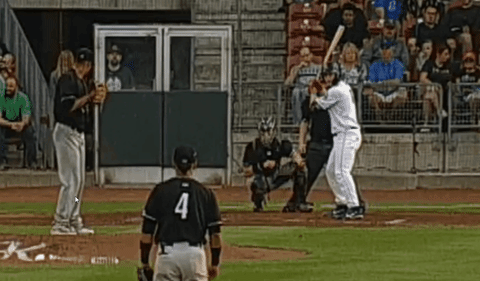 The curveball is enough to get the mouth-watering over Abreu, but he has another potential plus pitch on the docket that complements his curveball well.  His slider sits a tick or two higher in the 86-87 range and offers a horizontal compliment with great tilt that also has hitters swinging wildly.  In the gif above, Ryan Jeffers (I'm a fan of his bat from my time looking at the Twins' system) doesn't get close at the pitch that starts at the outside corner and even the catcher can't get close to corralling this pitch.  The ability to throw two different breaking balls is huge for Abreu and the hitters can't just sit on the curve knowing another plus breaking ball can come out of the same arm slot.  The slider is a tick behind the curve for me, but I have it at 55/60.  It grades out as fringe plus now but with just a little more refinement will be a true plus pitch for him.
The Changeup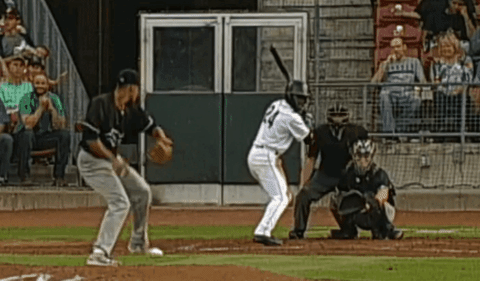 I like to call the changeup "the deal breaker pitch" for pitching prospects.  It's generally a pitch that makes or breaks a pitcher's ability to stick in the rotation.  I think Abreu could stick in the rotation without a changeup, but it would help combat lefties if he can at least throw an average changeup.
The above gif shows how most of his changeups look.  It's firm at around 90 mph.  It lacks the velocity separation from the fastball that you generally look for (about 10 mph) as his is around a 5 mph difference.  It has some tumbling action here but not much. However, Abreu does a good job throwing it with no diminished arm speed, so it has the desired result against the left-handed hitter.  As he advances, this pitch will not be enough to get more advanced hitters out.  I was close to writing off the pitch until he led off the 4th inning of the same game as the other changeup I linked with this beauty: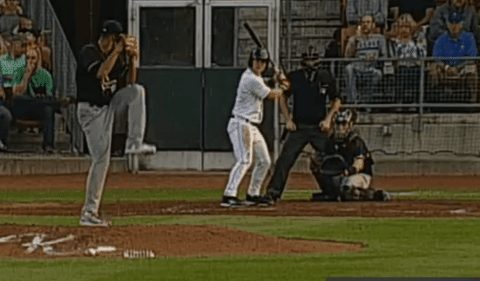 When I saw this pitch, I had to rewind it multiple times to watch it repeatedly.  This is by far the best changeup I've seen him throw.  Often when he throws it, it's difficult to discern it from his fastball. However, this one was clear as day.  It didn't look as firm as his fastball (hard to know without velocity readings), no diminished arm speed, and had good fading action away from the lefty.  It had the batter way out in front and flailing at the pitch.  He never got close to throwing another one like this in the tape I've been able to watch but this shows there is some potential here with the pitch.  It's a below average pitch for Abreu but could possibly become fringe-average if he can repeat what he did with the second changeup, 35/45.
Sequencing
In the starts I watched, Abreu used a discernable pattern.  He would start the game fastball heavy, probably trying to get into a rhythm early with the pitch.  Sparingly using his breaking stuff.  As the lineup turns over for the second time, he begins to break out the breaking stuff.  Usually curveball heavy with fastballs and sliders mixed in.
In my opinion, he's at his best when he's mixing in all his pitches.  Hitters are constantly off balance and the straight fastball plays up when hitters have to worry about that hook that could drop them at any moment.  When he's mixing his pitches he just seems to get into a rhythm and he's commanding his pitches better and doing whatever he wants on the mound.  In his start on August 14th, at one point he struck out 6 batters in a row and 7 of the last 8 for a total of 10 across 6 innings.
Something I would like to see more of Abreu is to possibly look to mix in breaking balls earlier into his starts.  He seems vulnerable early in starts when he's fastball heavy and those were the only times he seemed to struggle (which is hard to believe looking at his stats).  The fastball just isn't a good enough pitch to stand alone and is way more effective when the curveball is at the back of the hitter's mind.  I've also been a big proponent of using your best pitch early in starts.  A pitcher's best pitch is also usually the pitch they have the most confidence throwing for strikes.  This would allow Abreu to build confidence early and potentially get on him on a roll quicker than if he's trying to fight thru the order early on with an average fastball.  Then after the first turn thru the order, you can go to a more fastball heavy approach.  The fastball at that point would be more formidable because his breaking stuff has been well established and must be respected.
The Question Everyone is going to ask: Starter or Reliever?
This is such a tough question for me to answer.  I'm still on the fence about where his future will be.  If he were to move to reliever his stuff would play up to tremendous levels with two plus breaking balls and the fastball would tick up to potentially 96-97 in shorter stints.  The Astros seem determined to keep him in the rotation though.  The thing I like Abreu is that in his longer starts, he has been able to maintain his stuff late into the start. His delivery, while relatively high effort doesn't have a ton of moving parts so should be able to repeat easily enough to handle the innings.
I think his ability to stay in the rotation is going to hinge on a couple things.  Firstly, he must stay healthy and prove he can handle the workload.  He only pitched 54 innings in 2018 (his highest total so far) and has some elbow concerns in 2017.  If the Astros are determined to keep him in the rotation, priority number one is to get his innings up to see if he can handle the workload.  Secondly, his command and consistency must improve.  He has shown strides in this regard but with a jump to A+ incoming, hitters are going to be able to lay off his pitches that got less advanced hitters chasing.  I think he needs to stay as close to around 3.0 BB/9 as he can get and avoid 4.0 BB/9.  Finally, there's the changeup.  Like I said I think he could get by in the rotation without this pitch (especially if conditions one and two are met) but adding a changeup as another weapon to combat lefties will go a long way to cementing his future in the rotation.  Adding the changeup would also help him avoid being a breaking ball heavy pitcher which will put added stress on the elbow.  This would limit his innings and be similar to what McCullers has done for the Astros, and the curveball heavy McCullers recently has gone under the knife and will miss the 2019 season.
Player Comps
I have a few player comparisons in mind for Abreu.  The first one that popped up for me was Garrett Richards.  This came up while I was doing spin rate research for curveballs and I watched Richards throw one of his high spin rate curveballs and I felt like I was watching Abreu pitch.  Their deliveries are similar with how they attack the plate and fall off to the 1B side of the mound.  Both also have the high spin rate curveballs and slider.  Richards' fastball and changeup are ahead of Abreu for sure but Abreu's breaking stuff could become what Richards has.  Hopefully, Abreu doesn't have the injury history that Richards has racked up over his career but pitchers are never without risk.
Another comp that came up is courtesy of my partner in crime Alex "Juicy" Jensen, Archie Bradley.  Similar deliveries, double-plus curveballs, high-velocity fastball, high-end horizontal plane pitch (cutter for Bradley, slider for Abreu), and the troubles with the changeup and command/control.  Bradley was developed as a starter for a while but struggled to develop a good changeup or enough command/control to stick in the rotation.
I think Richards and Bradley represent two potential paths for Abreu. Either he will be a pitcher like Richards who, when healthy, is a nice mid-rotation starter with strikeout upside or he will be a high leverage reliever with a lethal arsenal. Not a bad pair to be compared to.
The Road Ahead
What does the road ahead look like for Abreu?  I think a lot of that will depend on whether he is developed as a starter or a reliever.  Either way, Abreu will most likely start his season at A+.  With him being added to the 40 man roster the Astros will likely push Abreu through the system and it wouldn't shock me if he got to AA or maybe even AAA this season.  If the Astros needed bullpen help late in the season and Abreu had proven himself, it's not outside the realm of possibilities he could get a call to the Majors.  I think that is unlikely but teams like the Astros who are looking to win now, aren't considered conservative with their prospects.  I think 2020 is a smart ETA for Abreu now.
The Crop Yield
The Astros have changed the game with their spin rate revolution. Would it be too far to compare their impact on the game to what the invention of the cotton gin did for the cotton industry?  Spin rate is now the hottest of topics in baseball and teams are doing whatever they can to optimize it in their pitchers.  Companies like Driveline are at the forefront of this and they have made tremendous strides in this area.  Abreu is simply another product of a system that is ahead of the rest of the teams in this field.  Abreu is quickly garnering some steam in prospect circles.  He ranked 10th in the Baseball America's top 10, 11th in Prospects Live's top 30, and 10th for MLB Pipeline for the Astros organizational rankings heading into the 2019 season.
Abreu has the potential to be an SP 3 with spurts of SP 2 performance.  The only reason I don't say top of the rotation potential is because of command concerns and it'll be hard for him to avoid higher walk rates right now.  With the two plus breaking balls and a fastball that would play up nicely in the pen, Abreu has the floor of a high leverage reliever possibly as a potential closer.  To give my thoughts on where he will actually end up, I think he will be a starter.  It might be a tad on the hopeful side, but I love this kid's arsenal and ability to pitch and trust the Astros to develop him right.  That would put his Future Value projections at 65/50/60.  Abreu is not without some risk but if the Astros continue their spin rate magic, they might have another gem on their hands.
Cover image courtesy of MLB Prospect Watch