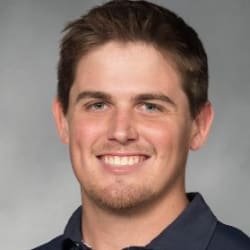 Bio:
Age: 22 yr, Weight: 220 lbs, Height: 6-2
Hits/Throws: L/R
School: East Tennessee State
Knack, a fifth year senior from East Tennessee State, is one of the riskier options in this class but comes with a healthy serving of upside. A two way star at Walters St JC, Knack has always thrown strikes and put up quality numbers. However, 2020 was when he truly broke out both from a numeric standpoint and from a pure stuff standpoint.

In his four 2020 starts, Knack went 4-0 with a 1.08 ERA, 0.52 WHIP, and a 51/1 K/BB ratio across 25 IP. While these numbers were a clear jump from 2019, he did go 9-4 with a 2.60 ERA and 94/16 K/BB in 2019 across 97 IP, so it's not like he was a bum before. Where Knack really put his name on the map this year was with his stuff. Knack had previously sat 89-92 with no notable secondaries. In this shortened season, he was sitting 93-95 comfortably and even reaching 98 with his fastball. He also flashed above average with his slider and threw an average curve and change. All of sudden, Knack (who has always thrown with plus command) had a genuine starters pitch mix.

That being said, he only showed this arsenal for a four game stretch due to the shortened season. There will still be concerns for if he can keep this up for a full season, let alone a career. Even if the newfound stuff holds up, Knack isn't without concerns. Knack has a thick 6'2 225 body that looks to be maxed out. His thick lower half should hold up well, but he will have to keep an eye on conditioning. He doesn't have the prettiest delivery in the world, with his delivery featuring some effort and a longer arm action in the back. That being said, he has a nice little side-step delivery from the stretch and really shortens things up. Not only does this make him hard to run on (given his velocity) but gives hitters a very different look to adjust to from his normal delivery. Knack also has a notable injury history, injuring his throwing shoulder in 2015 and his non-throwing shoulder in 2017.

Overall, Knack has a repertoire that reminds me a good amount of Mariners 2019 first round pick George Kirby with a similar ability to throw for strikes (albeit with a very different body and mechanics). If Knack's stuff remains, he has a high floor as a quick-moving power reliever with a high ceiling as a potential mid-rotation starter who should move quickly as well. If not, he won't likely be worth his draft slot, but still has value as a low 90's arm that throws strikes. Knack is one of my favorite sleeper arms in the class and will likely be very signable as a fifth year senior.
Photo credit: MLB