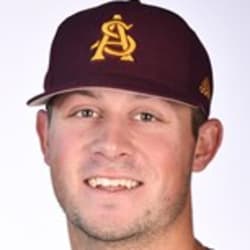 Bio:
Age: 20 yr, Weight: 220 lbs, Height: 6-1
Hits/Throws: R/R
School: Arizona State
The top bat in the draft, Torkelson has the definition of light tower power. Torkelson doesn't have the size or swing you expect for someone with his raw power profile. He isn't built like Jim ThomeAndrew Vaughn. That said, he makes plenty of contact with great natural loft and finish to his bat path. He gets to his power in games to all fields and seemingly puts the ball out to left-center with true ease. His short stride allows him to stay back on pitches exceptionally well. When combined with a great natural eye and willingness to draw walks give us great confidence in his ability to hit for both power and get on base at a very high clip.

Torkelson is a below average runner, but a better athlete than you'd expect. He has looked very good defensively in our looks, even making a leaping play where he pirouetted in mid air towards the first baseline while falling backwards, twisting his body against his momentum against UW in 2019. He looked like a boundary WR on that play and it certainly opened up our eyes to what he can be defensively. He is a tick above defensively at first, with some potential to play left field if needed and an average arm. You won't be drafting him for his glove but there's a big gap between what he can do defensively and an Aaron Sabato (#50 on this list).

Our own Ralph Lifshitz says Torkelson is the most confident he's personally been in a hitter since he started scouting. His combination of easy power, plate discipline and work ethic give him an incredibly high chance of success at the next level and there is a chance he can unlock even more contact ability as he goes through major league coaching.
Photo credit: MLB