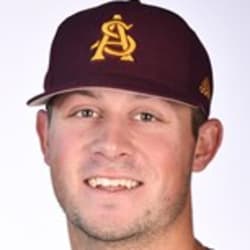 Bio:
Age: 20 yr, Weight: 220 lbs, Height: 6-1
Hits/Throws: R/R
School: Arizona State
Probably the best college bat since Kris Bryant, Torkelson has produced gaudy exit velocities for years, and couples those exit velocities with steep launch angles. A good predictor for success at the MLB level is to try to identify players who are able to hit the ball at extremely steep launch angles and high exit velocities, as those players are showing the ability to hit their miss hits with authority–guys like Mike Trout, Joey Gallo, Christian Yelich, etc. fall under this category. Torkelson has the most batted balls between 2019-20 that have achieved a Launch Angle greater than 40° and an exit velocity greater than 100 MPH. He's a freak physical talent and has underrated athleticism that makes me somewhat optimistic about his ability to play in the OF. Torkelson is going to end up running high swinging strike rates at the MLB level which is okay because: 1. He's going to hit for elite power, 2. He's going to run high BABIPs thanks to a VBA that's consistently above 35°, and 3. He has an innate feel for the strike zone, racking up unbelievably high walk rates, and showing the ability to sustain low chase rates.
Photo credit: MLB